Foundation Stage 1 (FS1)
Mrs Shields and I wanted you to know that we are missing you all very, very much. We hope that you are staying safe and helping Mummy and Daddy by doing great listening and helping as much as you can while you are at home.
Before we left school on Friday you were given lots of jobs and activities to do at home. You need to carry on doing those jobs but now it's time to be doing a little bit more! I will think of something new for you to do every school day that we have to spend at home. You may find some of the things a little bit tricky but don't worry, just do your very best.
Lots of love from Mrs Needs xxx
We would love to see your work so send us pictures or videos or completed work or any great learning to homelearning@stfrancisbrad.co.uk and they can be shared with Mrs Needs!
HALF TERM ART
We hope you are all having a lovely half term so far! Don't forget about the art competition - the deadline is the 9th June. There are also some drawing activities you may like in the document below!
Friday 22nd May
Good morning little pickles,
Happy Friday everyone!
Thank you all for your tremendous efforts over this last half-term, it really makes me smile when I see your messages, pictures and videos. It was ages ago when I last saw you but when I look at your work it only seems like yesterday.
Today's challenges are the last challenges that I will set for this half-term. If there are any challenges that you haven't been able to do you can still access them from the FS1 Home Learning page on the website. If I were you I would save them for a rainy day; you need a little break from your challenges for working so hard!
Enjoy the next two weeks and remember to keep smiling, keep listening and keep helping!
Good luck with today's challenges!
Lots of love to you and your families from Mrs Needs xxx
Shout-outs for super-duper work:
T'rahj, thank you for playing 'I spy ...' and for your pictures of throwing and catching (and football too).
Tommy has been using his super powers to do lots of jobs in the house ~ he can peg out and bring in the washing! (I think I need to have a word with Henry and Isaac about this Tommy.) He has also been very busy with his crafts and he now has a whole shelf dedicated to everything he has made while we have been away from school. He also used his eagle eyes to find lots of things on his nature scavenger hunt. They've been doing a bit of research into bug hotels and wormeries too and they're going to make it a job for the school holidays ~ I look forward to seeing your handiwork!
Teddy was very busy making his wormery yesterday; he even made a sign for it to let other people know what he has made. Teddy, your worms are going to love the food that you have given them! (He has fed his worms some grated carrot, strawberry tops, orange and dead leaves!) Teddy saw a snail on his nature themed scavenger hunt and he has since done a splendid job of painting it!
Benjamin has been enjoying his time in the garden; he has planted up all of his seedlings. What will they be when they have finished growing? Benjamin also painted a pebble to make it look like a ladybird. What a great idea! I think that some of your friends might try this idea out Benjamin. Looking at the picture below I think we can add 'Senior Shape Detective' to your growing list of skills and talents.
In other news:
Teddy has had success with his carrot tops! (Teddy, I think mine might work too this time.)
There are soooooo many wonderful pictures I have kept them in the document for you to look at - the work is underneath :)
Thursday 21st May
Good morning my fabulous flying high Zogs,
Happy Thursday everyone!
Wow! What a scorcher yesterday was; my washing machine has never worked as hard in one single day. We spent our time outside making potions and doing some gardening and then we had a little paddle in the paddling pool ~ all the things we would be doing in school on a nice hot day – with sun cream on. I hope you all took advantage of the hot weather and practised your throwing and catching skills with a grown-up. Were you able to beat your scores on the second time around?
Good luck with today's challenges!
Love from Mrs Needs xxx
Shout-outs for brilliant work:
We are getting more and more superheroes in FS1! Betsy saved her mummy's washing from being rained on when the weather took a nasty turn on Tuesday. Benjamin used his super powers to help his daddy cut the grass.
We have had super art work for our 'make a minibeast' challenges. Benjamin drew the minibeasts he found on Monday. Jemima made a VERY sparkly butterfly in her minibeast challenge.
Aine spent all morning searching for minibeasts in her garden; she found a butterfly, snail and a spider and then she used her skills to draw a beautiful butterfly! Determined to find more minibeasts she went back outside when it was a little bit darker to find even more; she found lots of woodlice and slugs. Well done for being brave and holding them Aine!
A special mention for the bug hotels built by our children in school; Harry and Joy they look fab! I have also seen your throwing and catching pictures ~ top effort!
Jemima has been busy making a mini wormery. If anyone else has made one don't forget to keep it wrapped with dark paper and in a warm place ~ only take the covers off to search for the tunnels made by your worms. Jemima, I'd love another picture one week from now.
In other news:
Harry and Jemima are looking after tadpoles; have they got any back legs yet?
Wednesday 20th May
Good morning pussy cats,
Happy Wednesday everyone!
This week Henry's class is learning about worms.
Yesterday he watched this: https://www.youtube.com/watch?v=bi1Wpbz6zGk
'I can only draw worms' by Will Mabbitt.
Have a look at it, I think you'll love it!
Yesterday we made lots of playdough worms of different lengths, putting lines on them to represent the segments in a worm's body. I think you could do this too!
Good luck with today's challenges!
Lots of love from Mrs Needs xxx
Shout-outs for super work:
Benjamin had a lovely time searching for minibeasts on Monday; he found a ladybird, some feathers, a bee and a snail. He also rode a two-wheeled bike to get there ~ without any stabilisers. Wow!
Aine has been very busy on the telephone; she face-timed her grandparents to find out about their favourite snacks and then she added their results to her snack survey.
T'rahj would love to be a superhero that can fly so that she can visit her Nan in Bermuda. (I think most of us would like 'flying' as a super power.) T'rahj was also very busy with the sock challenge; she could order them starting with the biggest and pair them up so that they are ready to be worn again.
Sophie has made a lovely butterfly using bits and pieces found in her garden; I love it Sophie!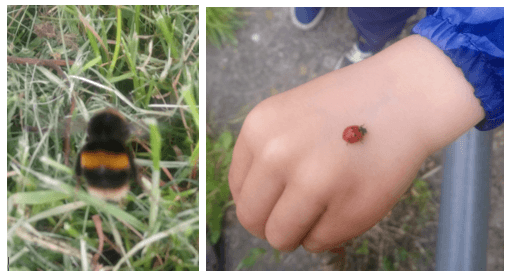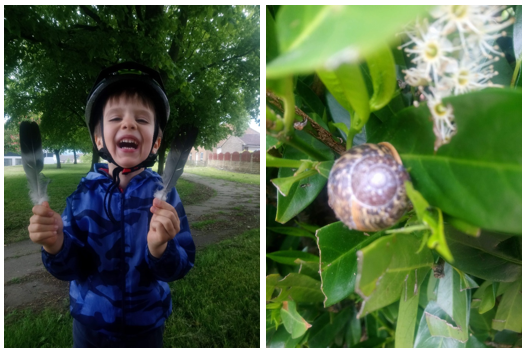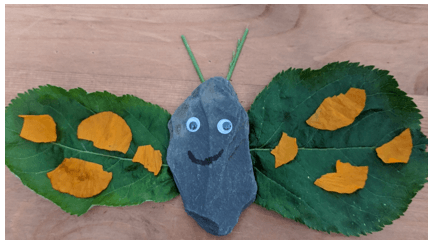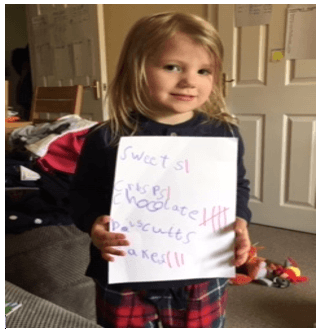 Tuesday 19th May
Good morning children,
Did you love reading 'Superworm'? It's one of our absolute favourites in the Needs' family. Henry likes to be Wizard Lizard and cast spells with sticks, pretending that his stick is the source of his magic power! He can get Isaac and Mr Needs to do all sorts of jobs for him!
Yesterday my boys were both dressed up as Superman. They used their super powers to put the washing away, make beds and knead pizza dough. How did you use your super powers?
Good luck with today's challenges!
Lots of love from Mrs Needs xxx
Shout-outs for fabulous work:
Esther and T'rahj need a big clap! We've had some more lovely pictures and videos of you playing hopscotch, writing your own numbers, reading to brothers and sisters, more fantastic toilet roll frogs, bunny hops and star jumps too. We also have a budding set of superheroes in FS1!
Thank you so much for all of your hard work; you really are very busy!
Well done to T'rahj and our school crew ~ Harry, Joy and Freddie, for completing their snack surveys. What were your favourite 'naughty' snacks?
Some of you managed to get out on your nature walks yesterday, I wonder what you found? Don't worry if you didn't go for a walk - a scavenger hunt like the one we gave you yesterday can easily wait till another day. (It was colder than we expected and windy too.)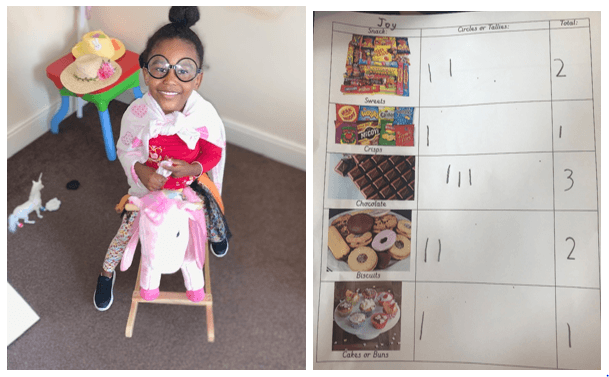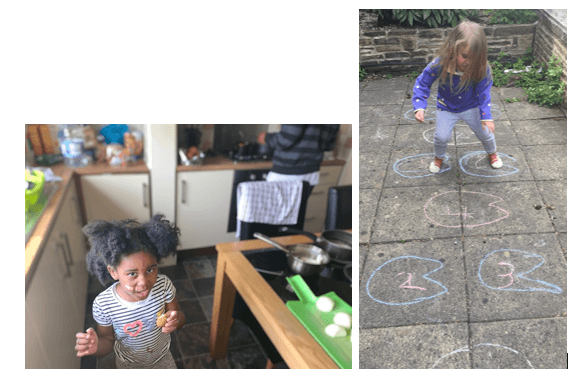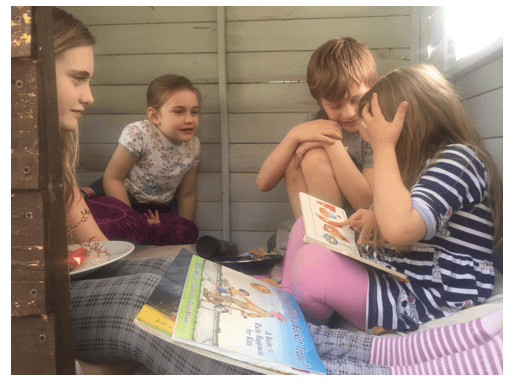 Monday 18th May
Good morning little pickles,
I hope you're all safe and well and keeping yourselves busy. I'm missing you very much so please do keep the pictures coming; they really do bring a smile to my face.
We had a camping session in our garden on Friday night; it was fab but it was also VERY noisy. The birds were singing at the top of their voices at 4:30am! I just couldn't get back to sleep and by the time it was breakfast I'm afraid to say that I looked a little bit like Mr Bear in 'Peace at Last'.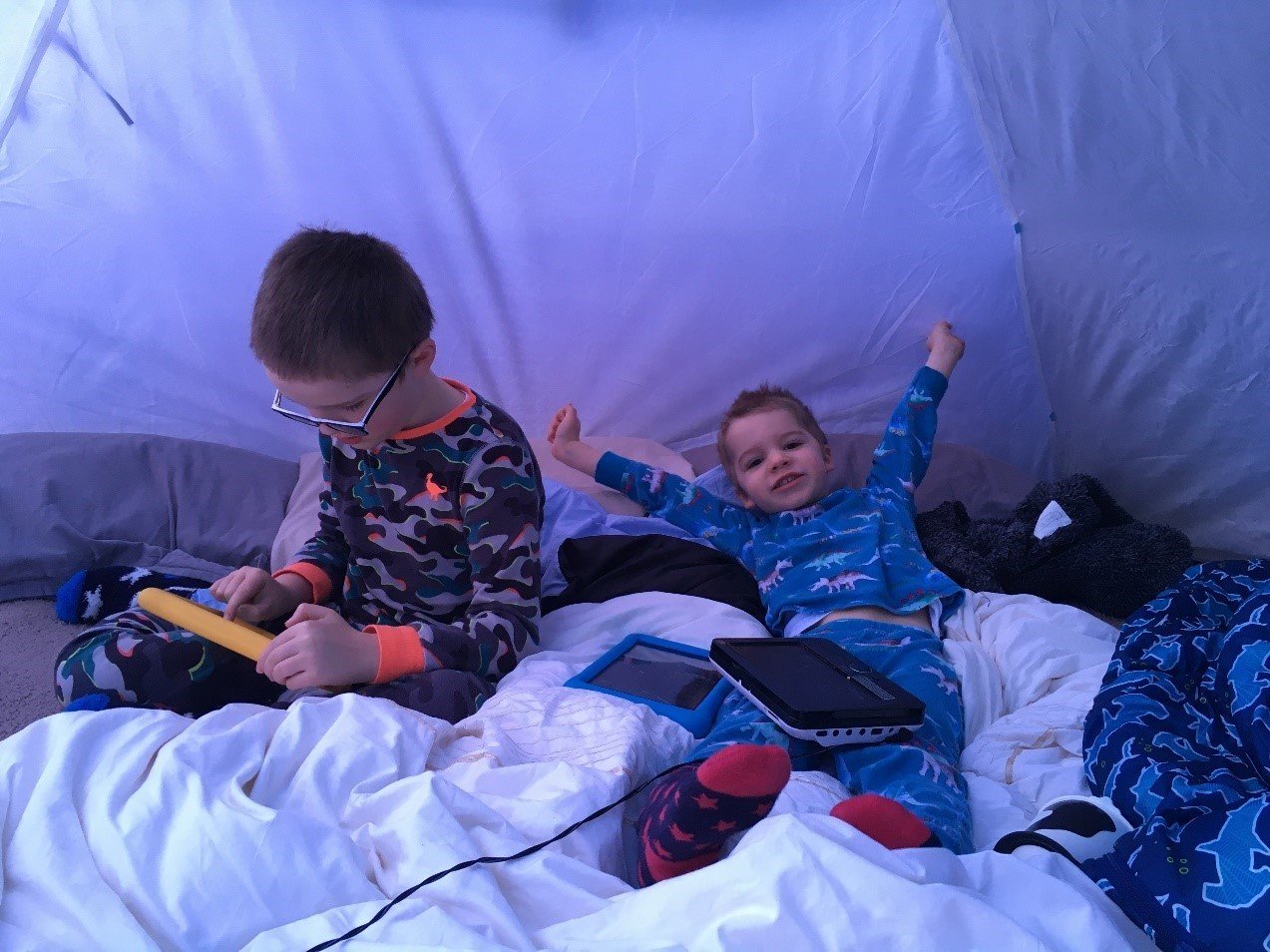 Good luck with today's challenges!
Lots of love from Mrs Needs xxx
Shout-outs for fabulous work go to:
Jemima for fabulous reading with Mummy.
Teddy, Tommy and Eva for making amazing dens.
We have had more excellent toilet roll frogs from Tommy and Teddy. (Teddy, I spotted your Rainbow Frog climbing up a plant in your garden.)
We have had more pictures of board games, dominoes and hopscotch.
I loved all of your super-duper observational drawings; you all have good eagle eyes for details. I have also enjoyed looking at your Ascension drawings.
Keep up the good work!
In other news:
Jemima has counted how many tadpoles she has in her collection ~ a massive total of 167. She has been very helpful with changing the water so that it remains nice and clean. The tadpoles have had a dietary change from boiled lettuce to boiled broccoli. I'm very glad that I'm not a tadpole!
Jemima's mummy tells me that they still haven't grown any back legs.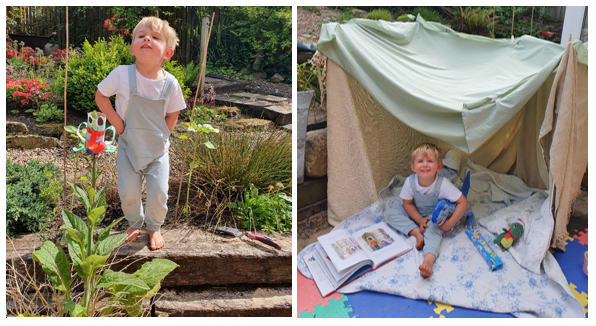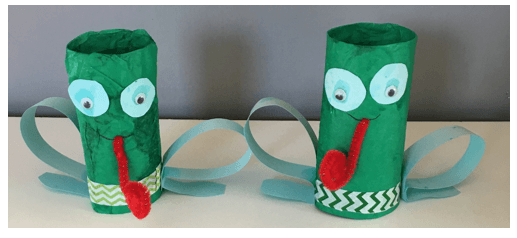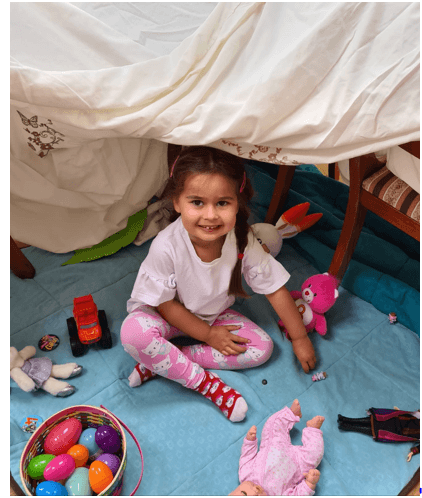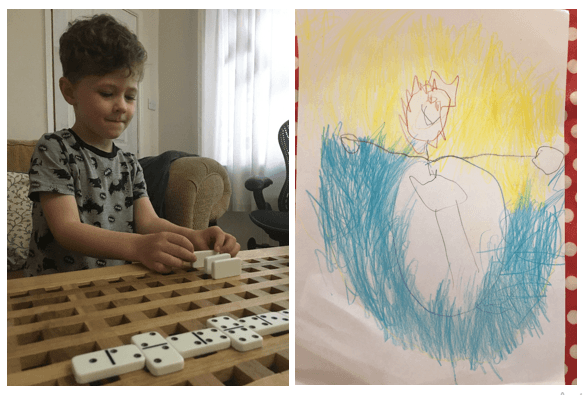 Here are some fun activities you may like to try over the Easter holidays!