Foundation Stage 1 (FS1)
Mrs Shields and I wanted you to know that we are missing you all very, very much. We hope that you are staying safe and helping Mummy and Daddy by doing great listening and helping as much as you can while you are at home.
Before we left school on Friday you were given lots of jobs and activities to do at home. You need to carry on doing those jobs but now it's time to be doing a little bit more! I will think of something new for you to do every school day that we have to spend at home. You may find some of the things a little bit tricky but don't worry, just do your very best.
Lots of love from Mrs Needs xxx
We would love to see your work so send us pictures or videos or completed work or any great learning to homelearning@stfrancisbrad.co.uk and they can be shared with Mrs Needs!
Thursday 16th July
Good morning lovelies,
Happy Thursday everyone!
Good luck with today's challenges!
Lots of love from Mrs Needs xxx
Shout-outs for fabulous work:
Ta-da! We have a froglet! I think it's a froglet because it looks like there is still a little bit of a tail curled around by its back leg on the left hand side. If my eyes are too old to see properly, and there is no tail, then we have a tiny frog instead. Well done to Jemima and to her Mummy and Daddy for looking after them so well!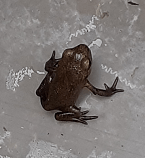 Tommy made a parrot! He has also enjoyed finding out what happens to our letters when we put them into the post box. I'm sure that your Nana and Stephen will have huge smiles on their faces when they open their post today!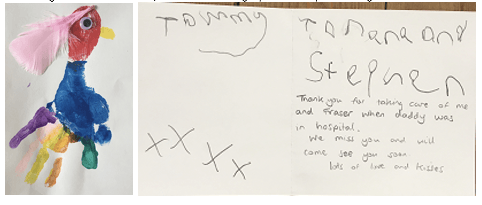 Teddy has been very busy with his post office challenges ~ he has drawn a fabulous picture for Nanny and Papa and put it into the post with two stamps on it! I wonder how long it will take to reach them. LOVE your post box Teddy!

Wednesday 15th July
Good morning children,
Happy Wednesday everyone!
We have been busy thinking about 'People Who Help Us' all half-term. I have thoroughly enjoyed learning about all the different people who help us each and every day; there are so many helpful people in the world beyond home and school! Apart from doctors, nurses, paramedics, firefighters, police officers, lollipop men and ladies, teachers, teaching assistants, cleaners, chefs, waiters and waitresses, supermarket workers, vets, postmen and ladies ~ there are also many others that we haven't thought about in our daily challenges. (I was a little worried that some of you might have started to snip your own hair if I had suggested barbers or hairdressers!) I have truly loved seeing all of your work and listening to your fabulous ideas. Today's focus brings us back to God. God is with us now and always to help us in our busy lives. God is most definitely someone who helps us.
Good luck with today's challenges!
Lots of love from Mrs Needs xxx
Shout-outs for fabulous work:
Postman Benjamin is ready for action!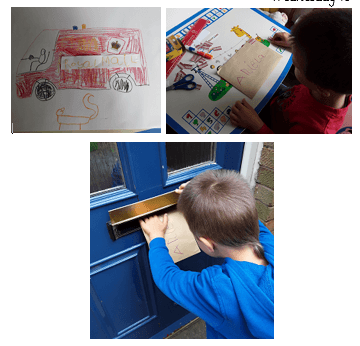 Monday 13th July
Good morning little pickles,
Happy Monday everyone!
I would like to say a massive thank you to everyone who took part in the sports week activities set by Miss White last week. In school we had a brilliant time doing all of the activities. I tried my very best but I can honestly tell you that doing 'the plank' is definitely not for me!!! (Someone in Year 6 managed a whopping 6 minutes!)
Thank you for sending me your very own sporty ideas from last week's challenges ~ you'll need to keep a look out for the nice weather and then, when it comes, you can put your very own sports day into action.
(As always, I will look forward to seeing your pictures.)
I haven't heard from some of you since before our last school holiday ~ that was such a long time ago! If you haven't been in touch this half-term then please send me some pictures of what you have been up to.
Good luck with today's challenges! I have also added Tuesday's too!
Lots of love from Mrs Needs xxx
Shout-outs for fabulous work:
Chef T'rahj has been hard at work in the kitchen!
Betsy has been finding out about France as part of our sports week!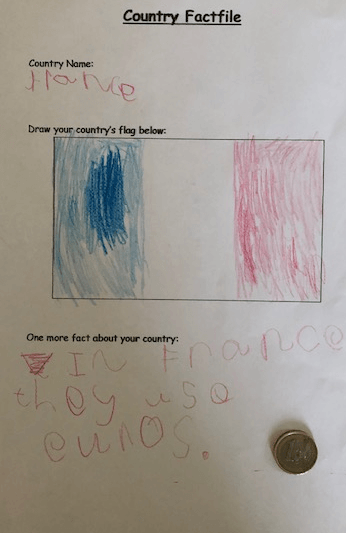 Benjamin had his own sports day inside!
Big shout-out for Esther! Esther loved our vet theme last week and was brilliant at remembering and repeating the words in the story, 'Paula the vet'. Esther went one step further and borrowed her aunty and uncle's dog for the night to find out how to look after a pet to keep it happy and healthy. Kyla and Esther both had a brilliant time together!
Teddy's been busy baking again. Teddy, I said in the merit worship last week that you are always making my mouth water with your delicious sweet treats! Yum, yum!
I also love your playdough snail; he's very busy munching up the leaves!